Just in Time for the Holiday Selling Season FMC Releases a Series of Animated Educational and Sales Training Videos
October 28, 2021
---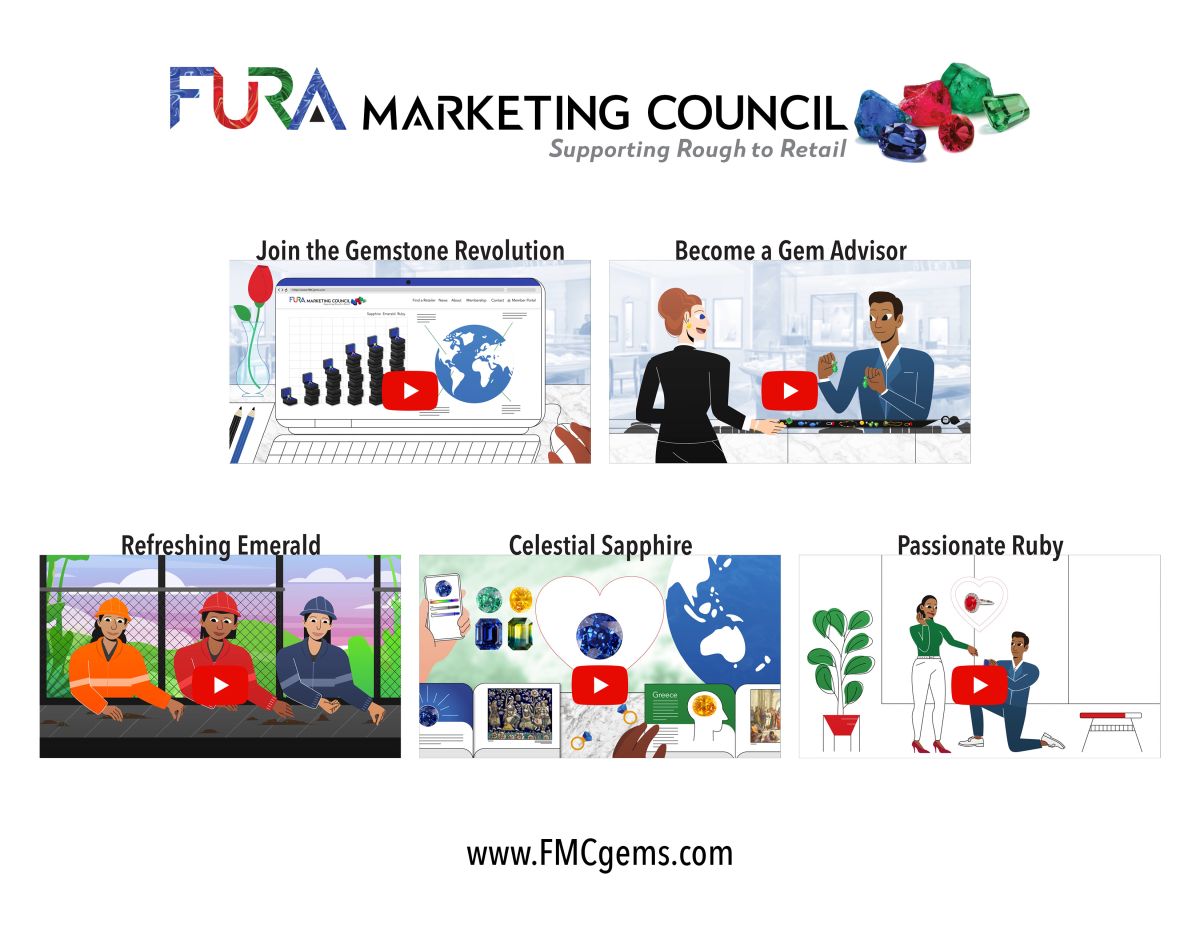 Austin, Texas, October 27, 2021 – There is so much happening in the color gemstone market sometimes it is hard to keep up. Everyone working with gemstones needs a refresher from time to time. There are new stone colors driving trends, new deposits in new areas that now dominate the market, new consumer interest in gemstones that they did not even know existed.

FURA Marketing Council (FMC) has produced a series of 5 animated videos, 4 to 6 minutes each that are fun to watch and packed with information to bring viewers up to date on the latest product and sales techniques for colored gemstones, highlighted by emeralds, rubies, and sapphires.
Everyone worldwide in the gem and jewelry trade are welcome to watch and share the FURA Marketing Council videos at: https://www.fmcgems.com/education.php. The 5 videos are currently offered in English and Spanish, Hindi and Mandarin will be added in 2022.
After viewing the Emerald video, Nicole Lasker, proprietor of Lasker Jewelers in Eau Claire, WI said, "Honestly, I had forgotten about jardin and that is a much better way to explain emerald inclusions. I like that the videos are short and sweet with good info to share across the counter. Much more interesting than "emeralds are soft so you can't wear them every day."
There are many topics covered that some wholesaler and jewelry store sales staff may not know, such as Australia is now the largest source of sapphires and has the most color array in the world. FURA's Australian sapphire mines produce many distinct colors including blue, teal, green, yellow, and bicolor and tricolor called Parti Sapphires.
"Great to see FURA helping to educate our industry—It's always so important to bring the history and romance of our precious stones to consumers," Ester Fortunoff, owner of Fortunoff Fine Jewelry.

The FURA Marketing Council (FMC) goal for the videos is to enable salespeople to refresh their colored gemstone knowledge and grow their excitement coming into the holiday selling season through an entertaining self-education tool. The videos cover information for selling B2B and B2C including gem features, benefits, history, origin and The 4C's of Color. Along with the videos, on https://www.fmcgems.com/education.php there is more in-depth information about the three main color stones- emeralds, rubies, and sapphires.
To help salespeople even further, FMC has worked with GIA to offer a discount on the GIA Colored Stone Essentials on-line course at GIA.com, FURA discount code can be found at the end of each video.
Jewelry designer Erica Courtney shared, "Every salesperson should watch all 5 FURA videos as I have. They can really expand your ideas about emeralds, rubies and sapphires and they have great easy to remember selling tips.

The FURA Marketing Council (FMC) is supported by its members, sponsored by FURA Gems and managed by MVI Marketing LLC. FMC members include gem cutters, dealers, jewelry manufacturers, designers and retailers.
Visit the FURA Marketing Council at www.FMCgems.com
‹ Back to All News